Skin Tone Correcting Serum
Regular price

€49,00

Sale price

€41,65
Pay Securely 24/7
Innovative Brightening Serum for Even Skin Tone and Texture
This silky-textured, lightweight serum delivers an instant shot of hydration and luminosity to your skin as its advanced formula targets and visibly reduces hyperpigmentation (uneven pigment and dark spots) as well as enlarged pores, post-acne scars, blemishes, redness and a dull complexion.
Brightens and unveils a more even skin tone

Improves skin texture and minimizes pores

Boosts radiance and nurtures with antioxidants
High-performance formula powered by 6 clinically proven brightening actives in smart Liposome Technology, activated by the skin's own microbiome
All skin types – Fragrance Free – Dermatologically Tested
KEY INGREDIENTS

Potassium Azeloyl Diglycinate (Azeloyl Glycine)
New generation active and derivative of Azelaic Acid offering even better anti-redness and brightening results than Azelaic Acid alone. It also hydrates while promoting cell turnover.
Diglucosyl Gallic Acid (Brightenyl)
A truly SMART biotechnologically created molecule activated by a functional layer of the skin itself (stratum microbium), delivering powerful skin brightening and skin rejuvenating results. It is clinically proven to be tens of times more powerful than kojic acid.
Niacinamide
Multifunctional and incredibly restorative (B3) vitamin – a skincare superstar. Revitalizes the skin barrier, helps to even skin tone, softens fine lines and wrinkles, minimizes enlarged pores and improves skin texture. Ideal for all skin types, including sensitive, dry, oily and even acne-prone skin. In this formula we have incorporated it at 5% – clinically proven to even out skin tone and clear blemishes.
Alpha Arbutin
Extracted from plants such as the bearberry, Alpha Arbutin is a safe and very effective skin brightening ingredient and antioxidant. Ten times more potent than its cheaper cousin (B-) Arbutin, it does an impressive job at evening out skin tone, fading acne scars and improving skin texture.
Licorice Root extract
Gentle yet potent skin brightening and skin soothing agent. Also helps to reduce redness and blemishes and is great for sensitive or Rosacea prone skin.
Kakadu Plum (Terminalia Ferdinandiana):

A small Australian super fruit boasting the highest recorded levels of Vitamin C of any natural source in the world – 5 times more than blueberries and over 50% more than oranges! This potent antioxidant brightens and evens out skin tone, protects against free radicals, boosts collagen and hyaluronic acid, wards off wrinkles and age spots, restores glow and soothes irritated skin and redness. A rejuvenating super fruit if ever there was one! We use sustainably sourced, high-quality Kakadu Plum extract ensuring your skin gets the most benefits from this precious fruit without harming the source.

This formula also contains Allantoin, Carrot Seed, Grapeseed and 2 forms of Vitamin E.

All ingredients:

Aqua (Water), Propanediol, Potassium Azeloyl Diglycinate, Niacinamide, Rosa Centifolia Flower Water˟, Vitis Vinifera (Grapeseed) Oil, Triheptanoin, Diglucosyl Gallic Acid, Alpha-Arbutin, Allantoin, Glycerin, Glycyrrhiza Glabra (Licorice) Root Extract, Terminalia Ferdinandiana Fruit Extract, Tocopherol, Daucus Carota Sativa (Carrot) Seed Oil, Sodium Phytate, Tocopheryl Acetate, Helianthus Annuus (Sunflower) Seed Oil, Leuconostoc/Radish Root Ferment Filtrate, Xanthan Gum, Lecithin, Pullulan, Sclerotium Gum, Sodium Potassium Aluminum Silicate, Titanium Dioxide (CI 77891), Silica, Lactic Acid, Caprylyl Glycol, Methylpropanediol, Didecyldimonium Chloride, Polyquaternium-80, Benzyl Alcohol, Potassium Sorbate, Alcohol, Sodium Benzoate.

˟Distilled
USE

After cleansing, apply several drops on affected area, or on entire face for

overall luminosity and hydration. Gently pat and press the serum onto the skin.

Can also be applied on the back of the hands, neck or chest.

Use twice daily and allow for at least 6 weeks to see visible results. Remember, skin tone correction requires patience and consistency. Always apply UV protection during the day.

Ideally, pair with our C+ HA Skin Glow Booster for optimal glow and brightening results.
WHY WE LOVE IT

Breaks up the appearance of dark spots and uneven pigment and helps prevent new excess melanin from appearing.
Supports a brighter and more even-looking complexion
Restores skin's natural radiance
Helps balance skin's natural oil production
Reduces the appearance of roughness, large pores, blemishes and redness
Soothes, nourishes and protects against photo ageing
89% or more natural ingredients
LEARN MORE

Incorporating smart Liposome technology and harnessing the power of the skin's own microbiome, this innovative serum delivers 6 clinically proven brightening actives to the skin. It adopts a new-generation multi-pathway approach to tackle the various stages of excess melanin being formed, while restoring skin's natural radiance. What makes it seriously special is that it does so gently and safely, without compromising skin's health or causing sensitivity ˟. This is extremely important as any form of inflammation will trigger melanocytes – the melanin producing cells – to make even more pigment! Mindfully formulated without added fragrance, essential oils or other potential irritants. Packed with skin-replenishing and anti-inflammatory nutrients, vitamins and antioxidants, this is a multi-action treatment that will leave your skin feeling soft and luminous while over time revealing a more refined, even-toned complexion.

Suitable for all skin types, including sensitive skin
No added fragrance
Non-photosensitizing / PH-friendly
Dermatologically tested
Vegan formula

This formula does NOT contain: phenoxyethanol, parabens, mineral oil, phthalates, essential oils, added fragrance or silicones.

˟ All our products have been dermatologist tested and approved. Nonetheless, we always recommend you do a 24-hour patch test before incorporating any new product/ ingredients into your regimen.

How to patch test a new skincare product or new ingredients:

To rule out any negative reaction, apply a small amount of the product on a clean section of your upper forearm. Leave for 24 hours, then rinse off. If during or after the testing procedure you have noticed any irritation, redness or itching, stop using the product.
Share it!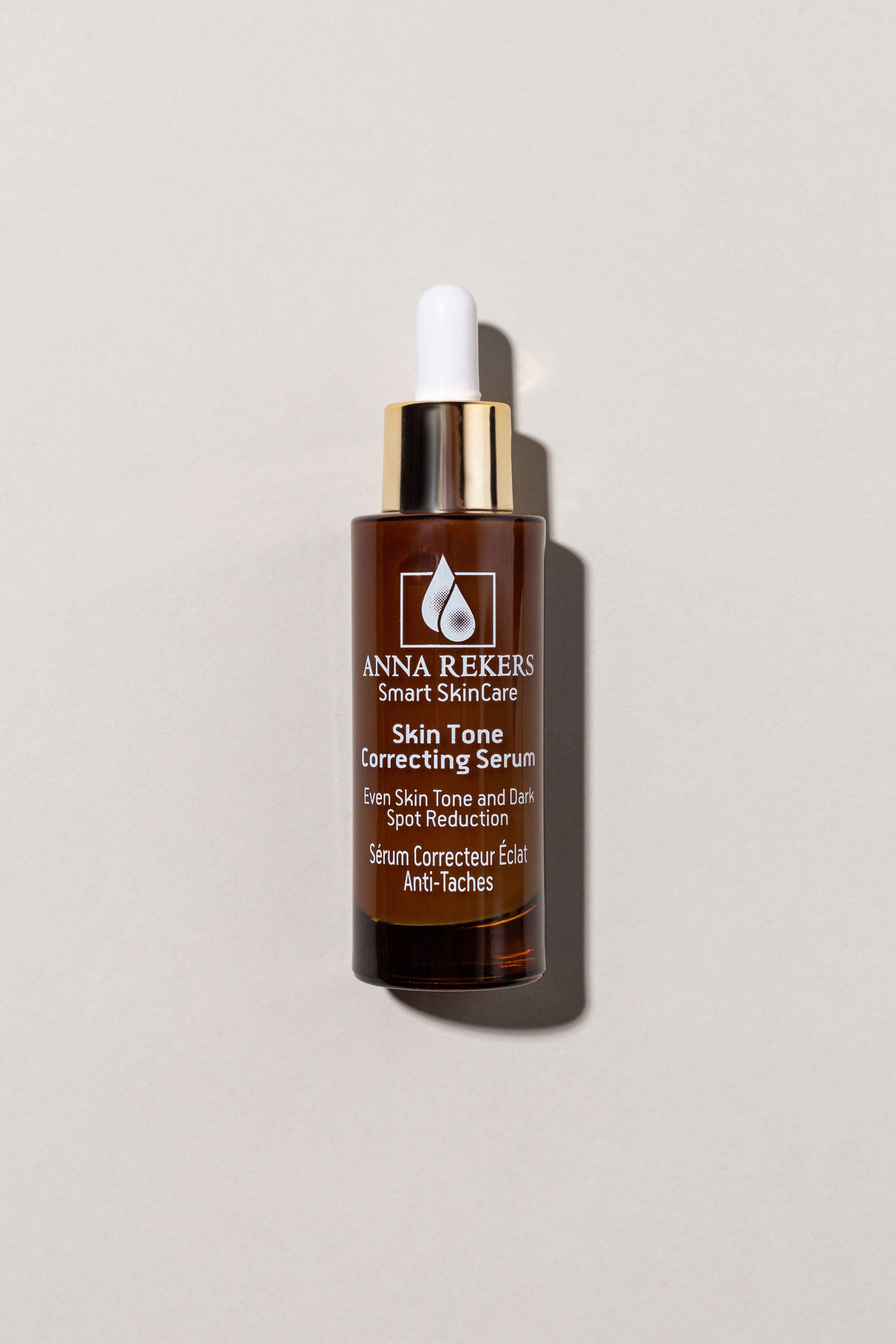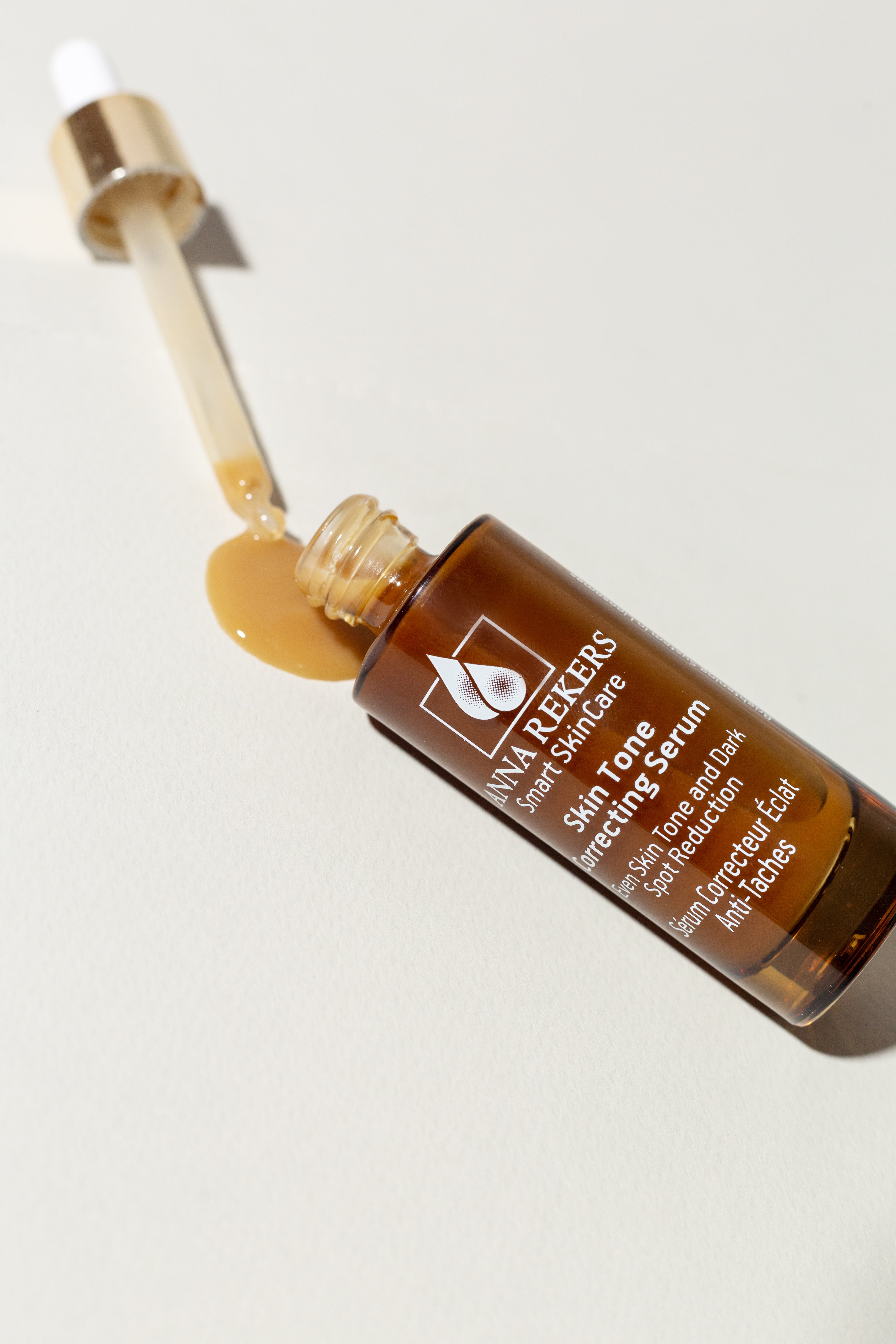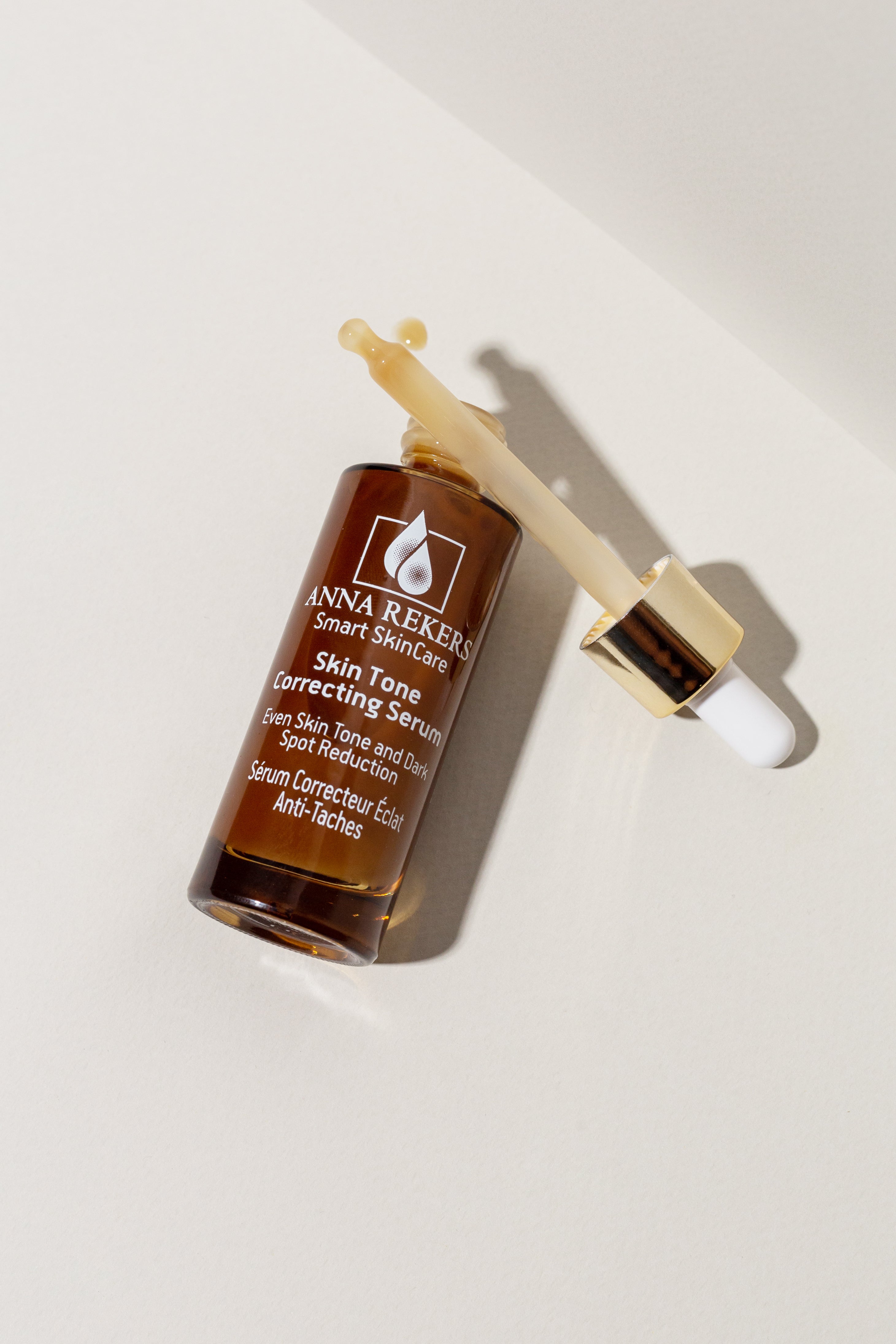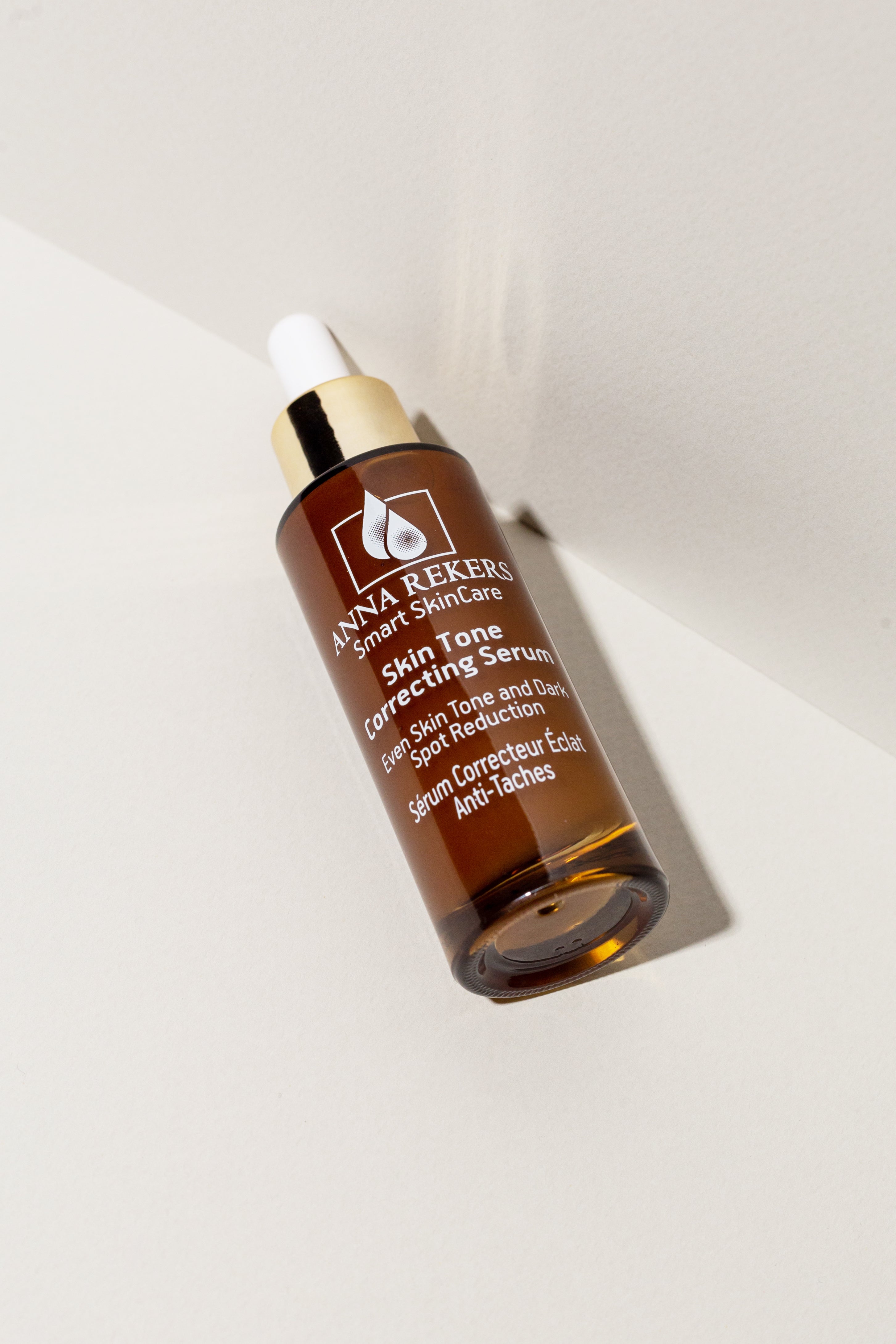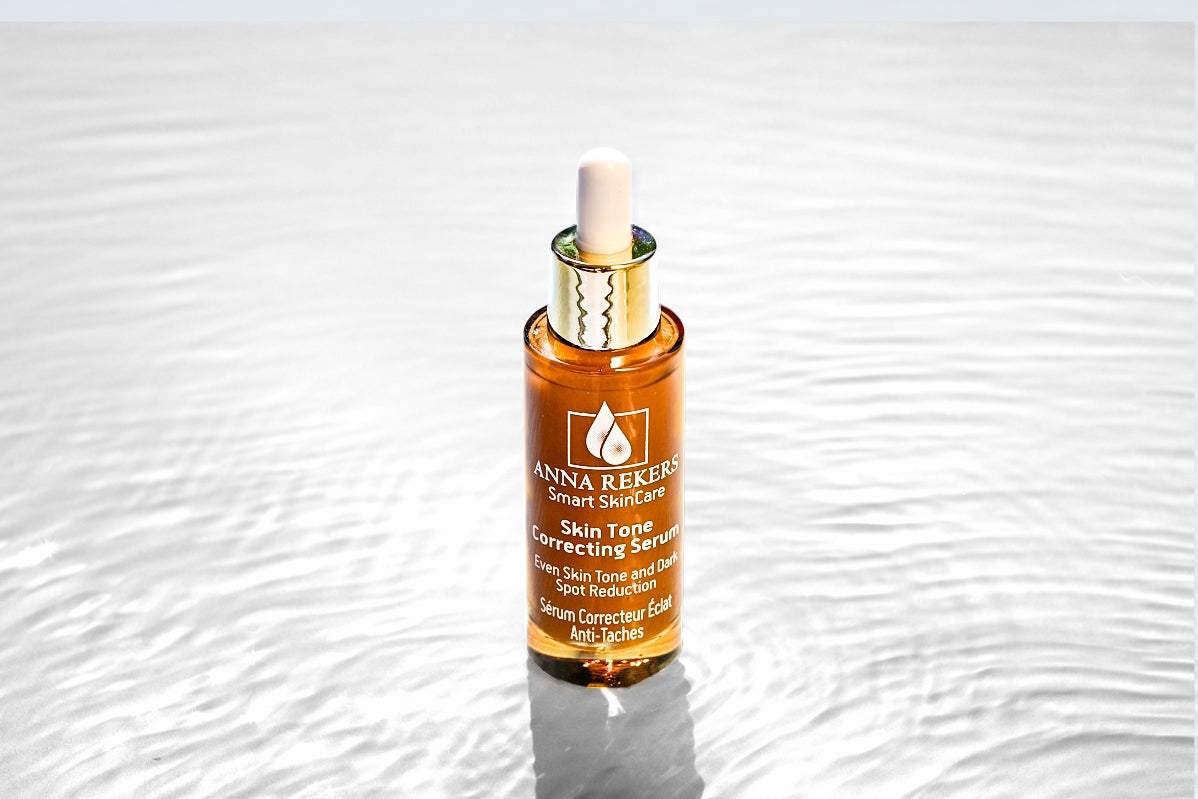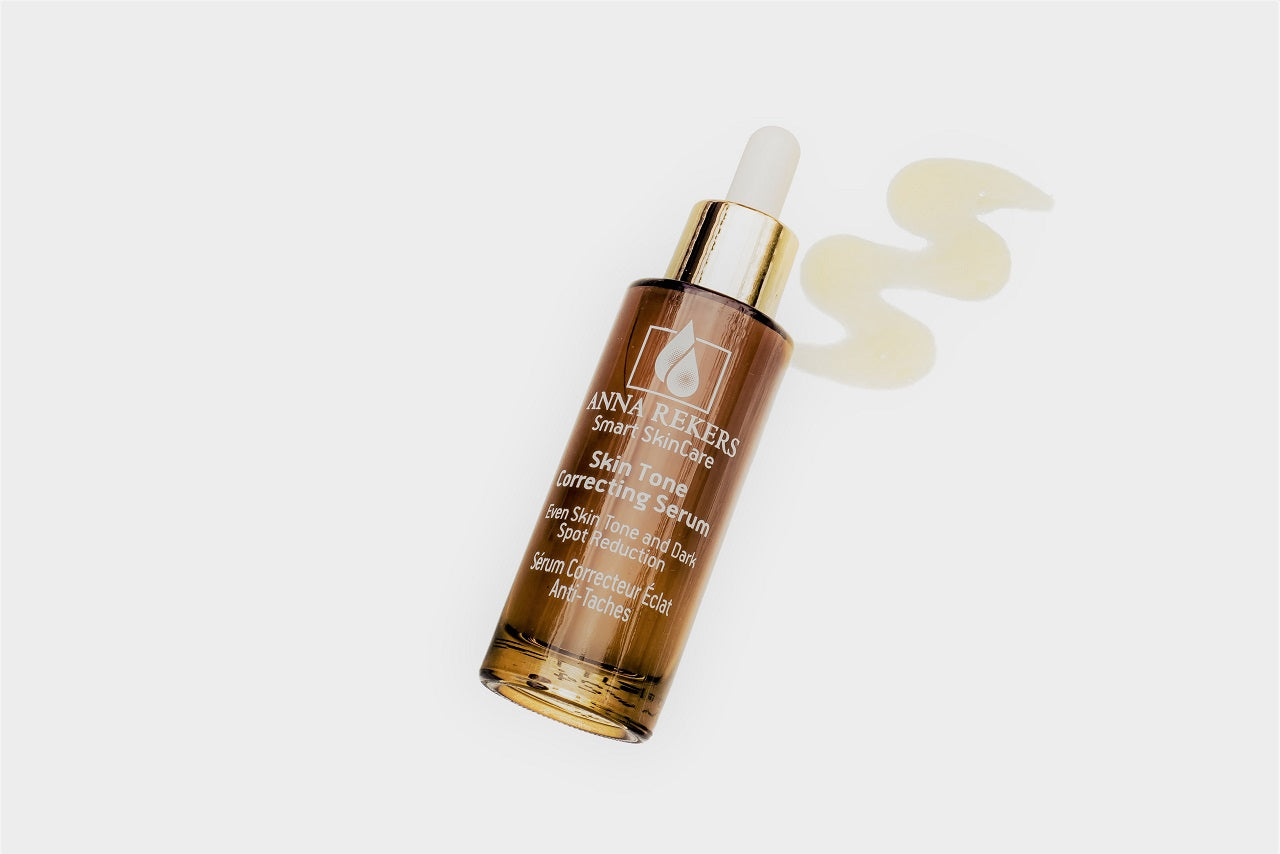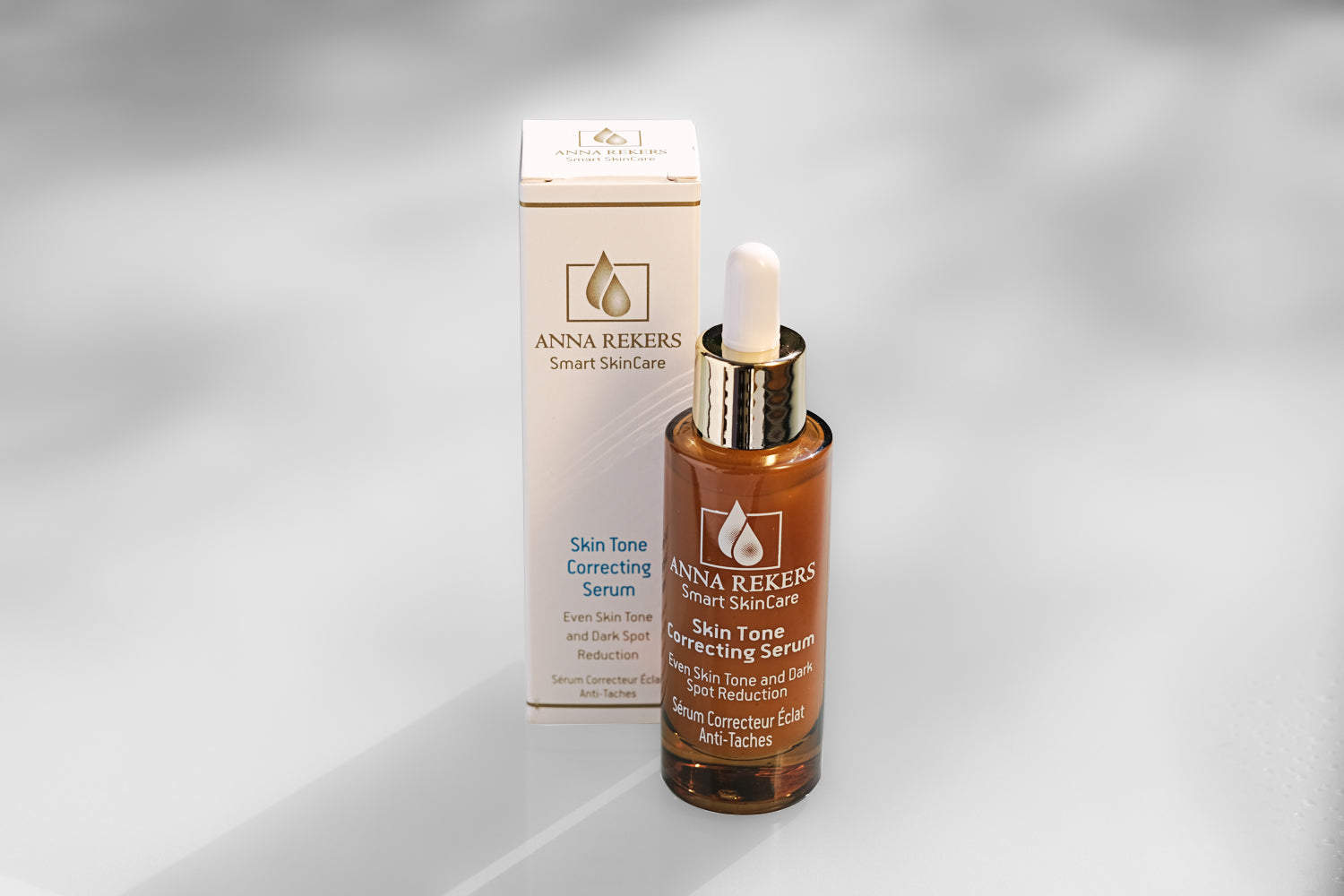 Why Anna Rekers?
Respect for your skin

Clean, biocompatible formulations that work in harmony with your skin's own biology, offering optimal safety and efficacy.

Clinically proven ingredients

We have merged the most precious ingredients Nature has to offer with innovative Biotechnology for real and science-backed results

Multi-active and highly concentrated

Each of our formulations is a potent and multi-active synthesis - rich in active ingredients and addressing multiple skin needs

Deep nourishment & hydration

All our products contribute to a strengthened epidermal barrier, and are also suitable for sensitive skin.
FAQs
What is your approach as regards the treatment of hyperpigmentation?

Having done 12-years of research into the complex issue of hyperpigmentation we are convinced that skin that presents skin tone unevenness as a result of excess melanin such as sun spots, melasma etc. requires gradual but gentle treatment with effective products that are non- aggressive. Our Skin Tone Correcting Serum is such a formula: powerful, 'multilayered' and highly efficacious without causing irritation or photosensitivity, making it safe for use in both winter and summer.
How long will it take for me to see results?

Although the product provides immediate radiance and hydration to your skin, you will start to see noticeable improvement in your hyperpigmentation after 3-6 weeks of regular use morning and evening, and always depending on the case. Please bear in mind that correcting your skin tone requires consistency and patience for best and lasting results. Our Skin Tone Correcting Serum acts on multiple levels of tyrosinase activity and tackles melanin synthesis steadily and gradually for optimal and greater results.
Is it safe to use this serum in the summer?

Yes it is. This advanced serum was especially formulated so as not to cause photosensitivity and is safe for use in both winter and summer.
What else should I bear in mind to get optimal results with my skin tone?

It goes without saying that consistent everyday use of sun protection in both summer and winter is vital. Equally important when dealing with the complex issue of hyperpigmentation is avoiding the use of extreme methods and treatments that shock the melanin production and cause irritation, because the cases we have encountered have shown us that more often than not they have the exact opposite effect! The secret to success in dealing with hyperpigmentation is to treat it 'kindly' but effectively. Otherwise there is a risk that your problem will return, and often even more severely than before.
Happy Clients





These products have transformed my overly sensitive skin. Hands down the best moisturizers I have come across.

Chrissy Pollan Vlasou
Each and every product I tried from this brand has significantly improved the health and appearance of my skin! Love the science and transparency behind this brand

Anna Hilvert
Τα καλύτερα προϊόντα που δοκίμασα μέχρι τώρα!

Flora Louka
Πόσο χαίρομαι που βρήκα αυτή την εταιρεία, τα προϊόντα είναι εξαιρετικής ποιότητας .. πραγματικά ό τι δοκίμασα μου έχει φέρει αποτέλεσμα και δεν υπερβάλλω!

Lida Xanthakou
HydraProtect Moisture Complex is the best face cream I've ever used by far. Using it with the face and neck serum for a month or so, it feels like it forms a natural smooth protective layer on my face and neck.

Liz Gardiner