C+HA Skin Glow Booster
Regular price

€38,00

Sale price

€38,00
Pay Securely 24/7
Antioxidant Radiance Serum

Restore your glow and supercharge your skin with a burst of high-potency Vitamin freshness.
Enhances skin radiance

Smooths and plumps skin

Provides an antioxidant shield against photo ageing
High-performance formula powered by 2 potent forms of Vitamin C and Hyaluronic Acid.
All skin types – Fragrance Free – Dermatologically Tested
KEY INGREDIENTS

3-O Ethyl Ascorbic Acid:
Innovative, highly stable and multifunctional form of Vitamin C with superior skin penetration. As potent as L- Ascorbic Acid but without the irritation.
Outshining all other Vitamin C derivatives in increasing collagen synthesis from within, it has clinically been shown to promote firmer, smoother and more radiant skin. Its excellent brightening properties help reduce dark spots, restore glow and even out skin tone. It protects against free radical damage, such as UV, pollution and blue light, thus fighting premature signs of ageing.
A super hero ingredient we love and like to pair with other powerful antioxidants to pack an extra punch of skin goodness.
Kakadu Plum (Terminalia Ferdinandiana):
Boasting the highest recorded levels of Vitamin C of any natural source in the world (5 times more than blueberries and over 50% more than oranges! ), this potent antioxidant fights and protects against free radicals. It also boosts collagen and hyaluronic acid production, wards off wrinkles and age spots, restores glow and soothes irritated skin and redness. A rejuvenating super fruit if ever there was one!
We use sustainably sourced, high-quality Kakadu Plum extract ensuring your skin gets the most benefits from this precious fruit without harming the source.
Sodium Hyaluronate:
With just the right molecular weight, our Hyaluronic Acid restores hydration, plumps the skin and reduces the look of fine lines and wrinkles by working on different layers of the skin.
Our Sodium Hyaluronate is non-GMO, food grade and not derived from animals.
Niacinamide:
Versatile and incredibly restorative B3 vitamin. It strengthens and revitalizes the skin barrier, evens out skin tone, softens fine lines and wrinkles, minimizes enlarged pores and improves skin texture.
Green Tea (Camellia Sinensis):
A potent antioxidant rich in skin-nourishing polyphenols, vitamins B and E, Green tea leaf delays signs of ageing, reduces redness, helps clear acne and restores glow.
Tocopherols (Natural Vitamin E):
Working in perfect synergy with Vitamin C, tocopherols protect skin from free radical damage, reduce inflammation and overall help your skin look youthful.
We exclusively use 100% natural, non-GMO and high-concentrate Tocopherols.

Also contains: Allantoin, organic Aloe Vera and distilled Rose Flower Water

All ingredients:

Aqua (Water), Propanediol, Rosa Centifolia Flower Water˟, Ethyl Ascorbic Acid, Butylene Glycol, Niacinamide, Triheptanoin, Trisodium Citrate, Sodium Hyaluronate, Camellia Sinensis Leaf Extract, Terminalia Ferdinandiana Fruit Extract, Aloe Barbadensis (Aloe Vera) Leaf Juice Powder˟˟, Tocopherol, Allantoin, Helianthus Annuus (Sunflower) Seed Oil, Xanthan Gum, Lecithin, Pullulan, Sclerotium Gum, Benzyl Alcohol, Citric Acid, Sodium Phytate, Leuconostoc/Radish Root Ferment Filtrate, Caprylyl Glycol, Methylpropanediol, Didecyldimonium Chloride, Polyquaternium-80, Potassium Sorbate, Alcohol, Sodium Benzoate.

˟Distilled ˟˟Organic
USE

Apply a few drops on clean, slightly damp face and neck in the morning, gently patting evenly into the skin, avoiding the eye area. Allow to sink in for several seconds, and then follow up with one of our Moisture Complex creams to lock in hydration. Finish with sunscreen.
WHY WE LOVE IT

Boosts elasticity and skin firmness by stimulating collagen
Delivers glow and revives dull skin
Helps reduce dark spots and sun damage
Protects against oxidative stress and premature ageing
Hydrates and plumps
Forms an antioxidant shield that makes your sunscreen work better
95% or more natural ingredients
LEARN MORE

This powerhouse Antioxidant Serum contains 2 superb forms of Vitamin C that work in synergy to revitalize and plump skin from within by supporting natural collagen synthesis, the major protein that keeps skin supple and strong.

Both science-backed forms of Vitamin C – new generation 3-O Ethyl Ascorbic Acid and Kakadu Plum, the world's richest source of Vitamin C – are incorporated at optimal concentrations to safely bring back that glow to dull skin, smooth the appearance of fine lines and uneven skin tone while acting as a protective shield against daily stressors such as pollution, UV and other free radical damage (the number one enemy of youthful skin).

Going on smoothly with a silky, non-sticky texture, this age-control treatment is fortified with additional goodness such as Hyaluronic Acid and Aloe Vera for deep hydration, Niacinamide (Vitamin B3), Green Tea and Vitamin E for an overall radiant, firm and vibrant complexion.

Fast-absorbing and fragrance-free, this is your ideal first step in the morning.

Suitable for all skin types, including sensitive skin
No added fragrance
Non-irritating / PH friendly
Dermatologically tested
Vegan formula

This formula does NOT contain: phenoxyethanol, parabens, mineral oil, phthalates, essential oils, added fragrance or silicones.
Share it!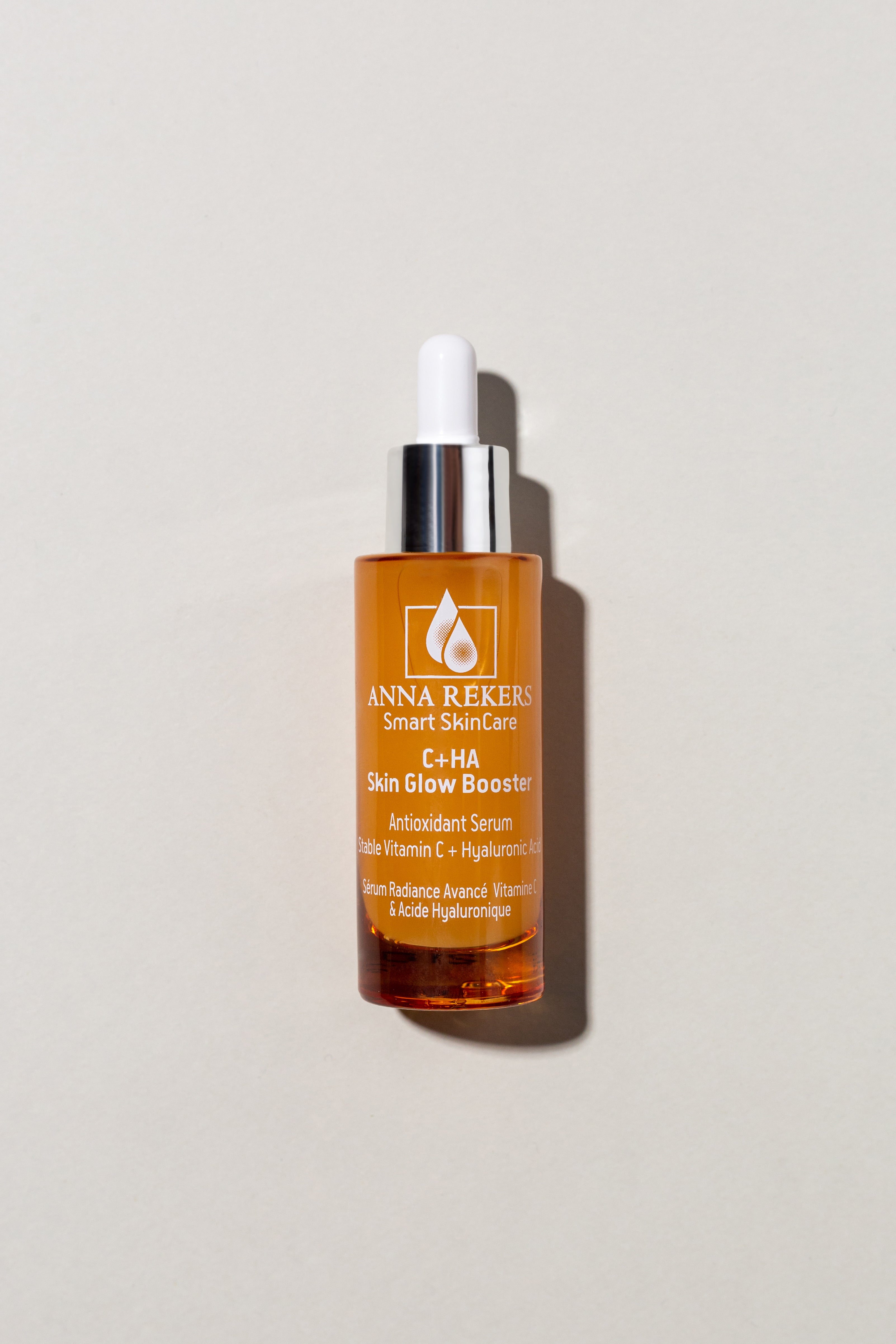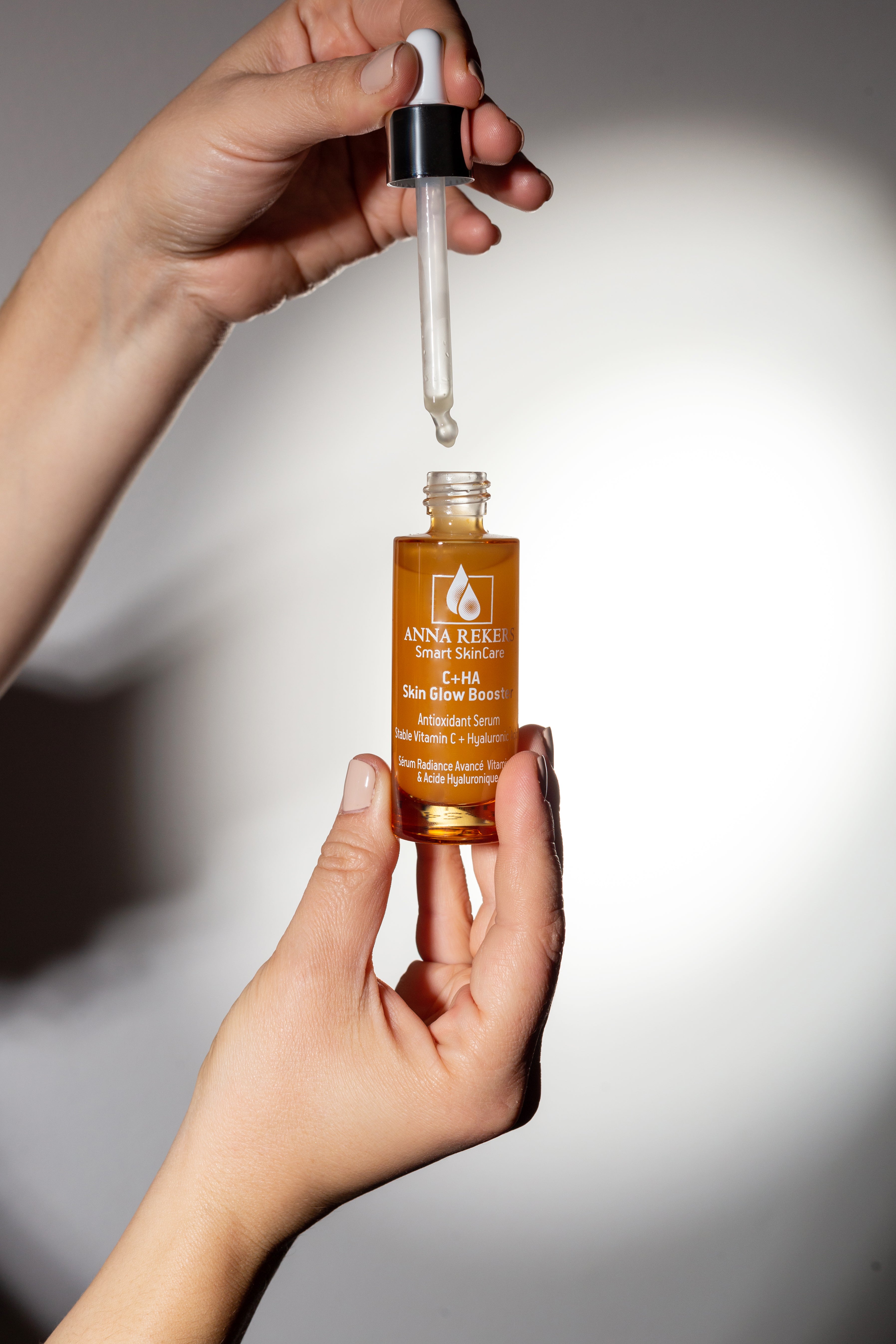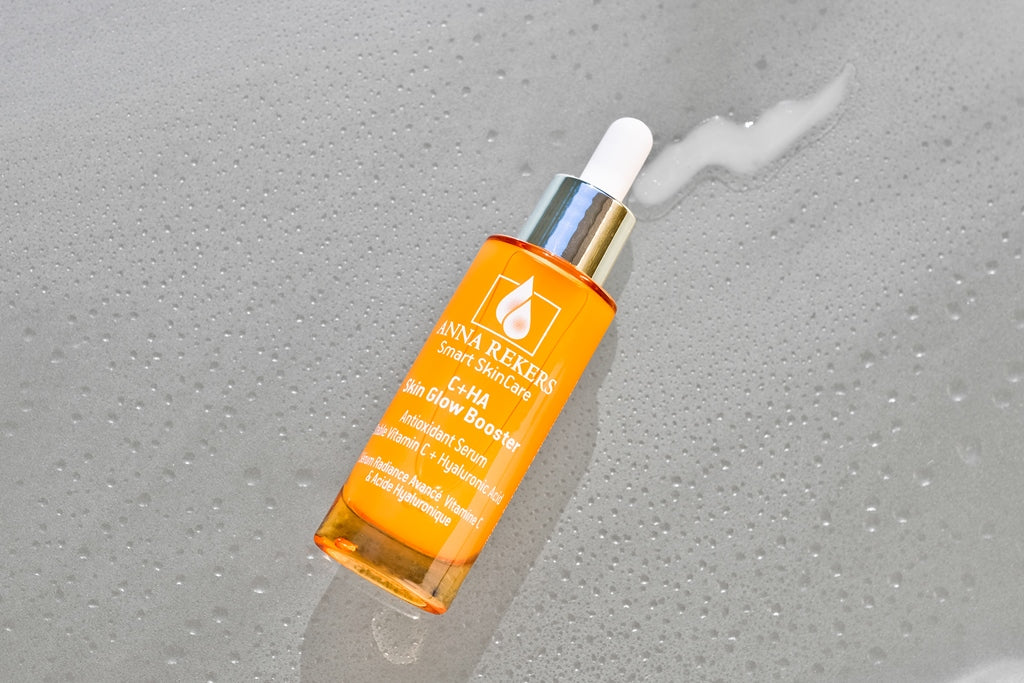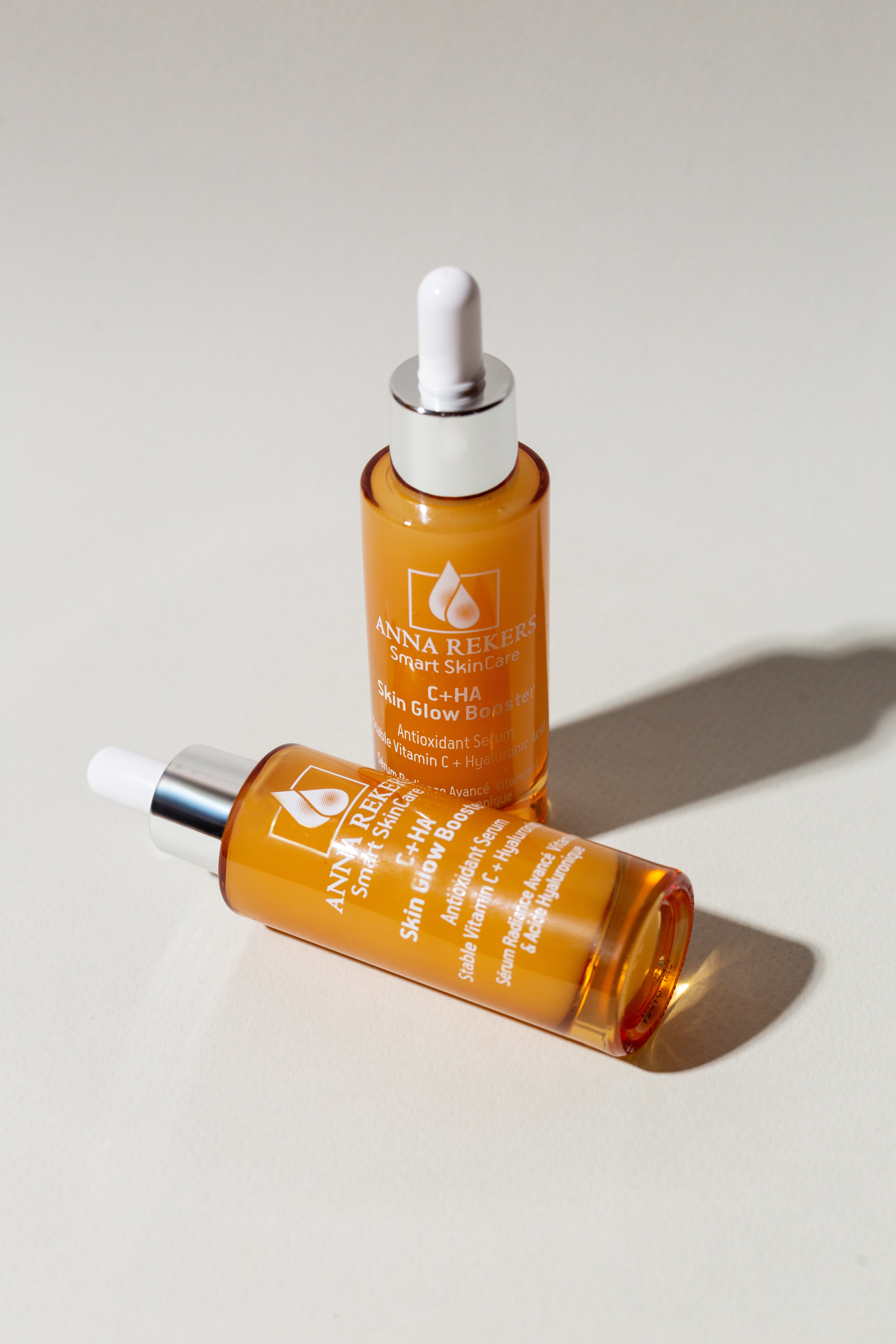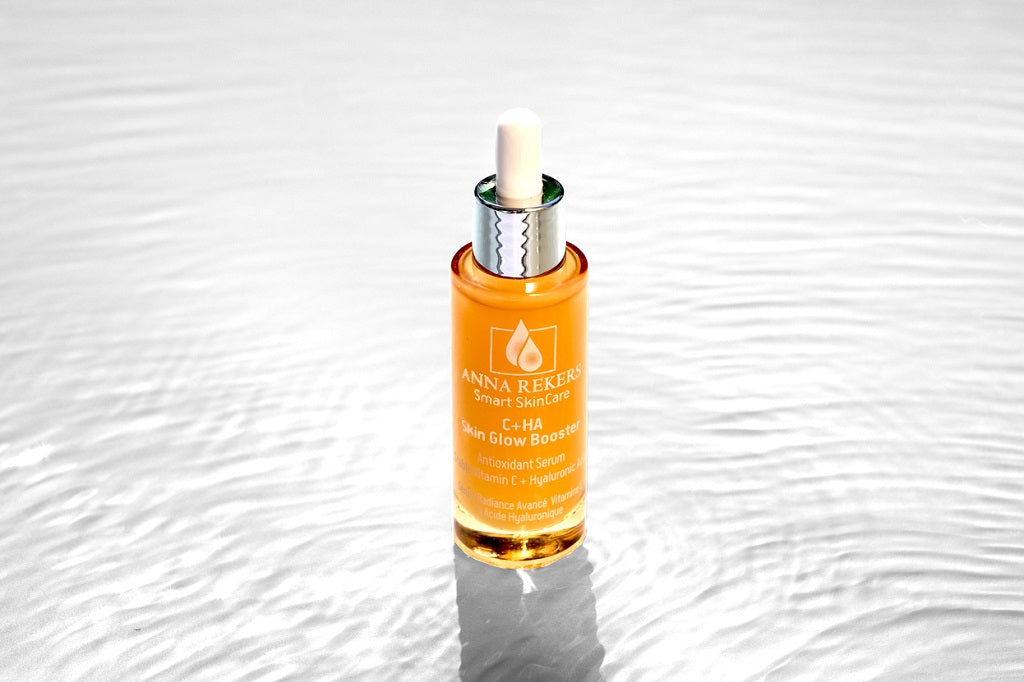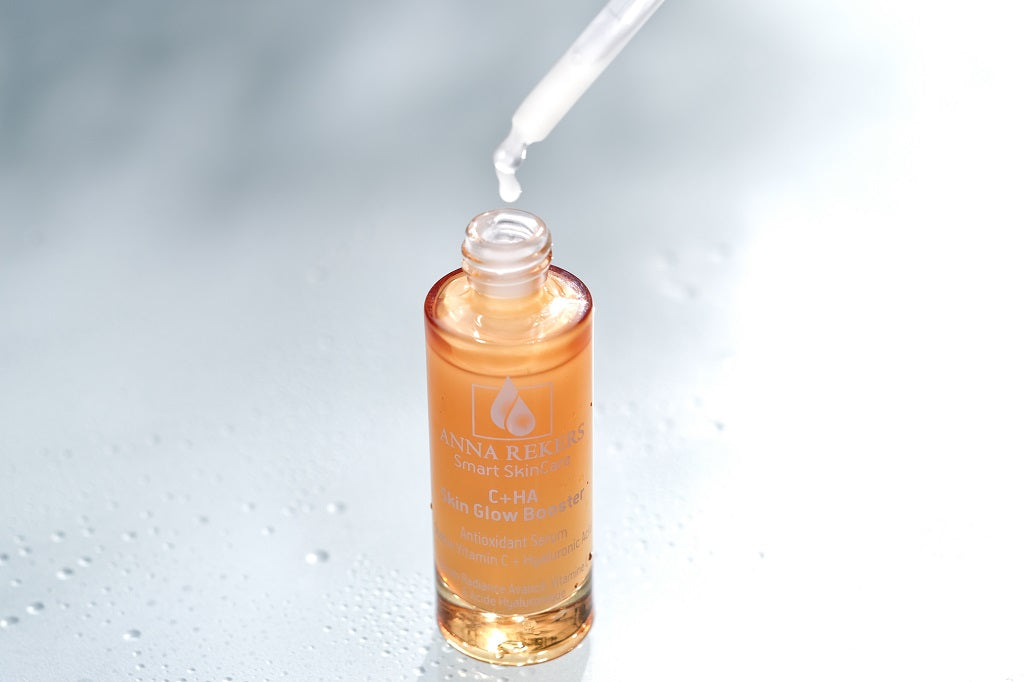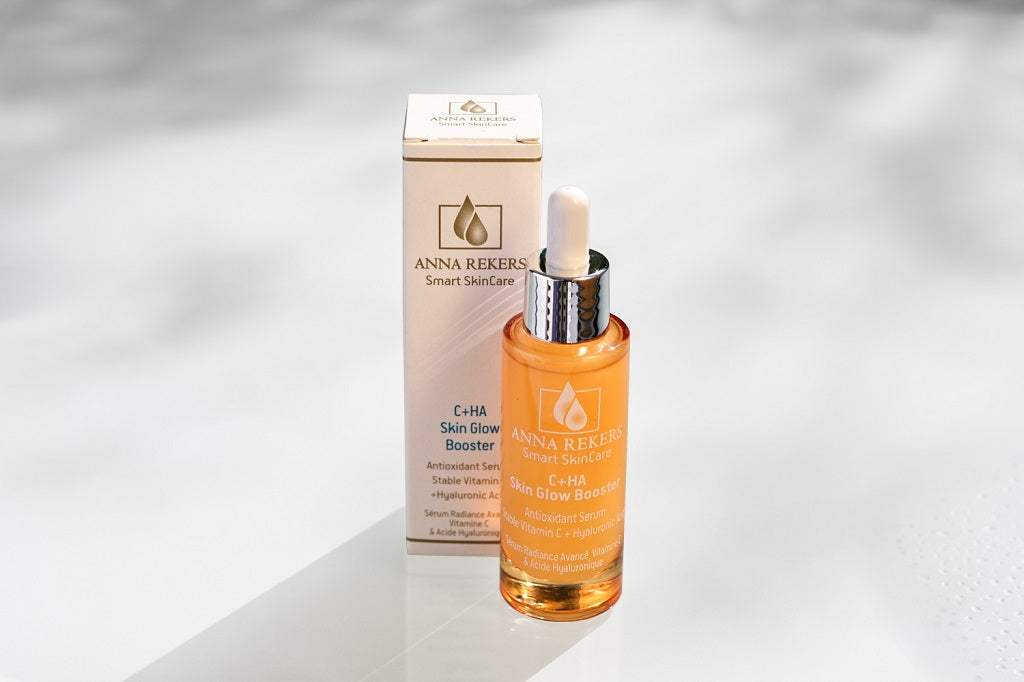 Why Anna Rekers?
Respect for your skin

Clean, biocompatible formulations that work in harmony with your skin's own biology, offering optimal safety and efficacy.

Clinically proven ingredients

We have merged the most precious ingredients Nature has to offer with innovative Biotechnology for real and science-backed results

Multi-active and highly concentrated

Each of our formulations is a potent and multi-active synthesis - rich in active ingredients and addressing multiple skin needs

Deep nourishment & hydration

All our products contribute to a strengthened epidermal barrier, and are also suitable for sensitive skin.
FAQs
Can I continue the use of your antioxidant Vitamin C serum during the summer months?

Absolutely! Our innovative formula is specifically designed for winter and summer use. In fact, as Vitamin C helps protect your skin from free radical damage caused by UV exposure, it's especially recommended to continue using it during the summer months. The two innovative, exceptionally stable forms of Vitamin C in our formula are potent antioxidants that protect cells from the damaging effects of free radicals and oxidative stress. With increased exposure to sunlight in the summer your skin craves this antioxidant protection even more!
Doesn't the Vitamin C deteriorate with exposure to light if I use it in the morning?

No! We use two innovative and highly stable forms of Vitamin C in our formulations that do not cause photosensitivity while providing powerful antioxidant benefits.
I struggle with hyperpigmentation. Can I combine your Vitamin C serum with the serum in your range for dark spots, the Skin Tone Correcting Serum?

Absolutely. In fact, the two products work beautifully in synergy as the C + HA Skin Glow Booster with two potent forms of Vitamin C also contributes to a more even complexion, further enhancing the action of the Skin Tone Correcting Serum. The two products also provide powerful anti-ageing benefits as well as radiance, firmness and precious nourishment.
Does this product contain fragrance?

None of our facial serums contain any additional fragrance.
Happy Clients





These products have transformed my overly sensitive skin. Hands down the best moisturizers I have come across.

Chrissy Pollan Vlasou
Each and every product I tried from this brand has significantly improved the health and appearance of my skin! Love the science and transparency behind this brand

Anna Hilvert
Τα καλύτερα προϊόντα που δοκίμασα μέχρι τώρα!

Flora Louka
Πόσο χαίρομαι που βρήκα αυτή την εταιρεία, τα προϊόντα είναι εξαιρετικής ποιότητας .. πραγματικά ό τι δοκίμασα μου έχει φέρει αποτέλεσμα και δεν υπερβάλλω!

Lida Xanthakou
HydraProtect Moisture Complex is the best face cream I've ever used by far. Using it with the face and neck serum for a month or so, it feels like it forms a natural smooth protective layer on my face and neck.

Liz Gardiner